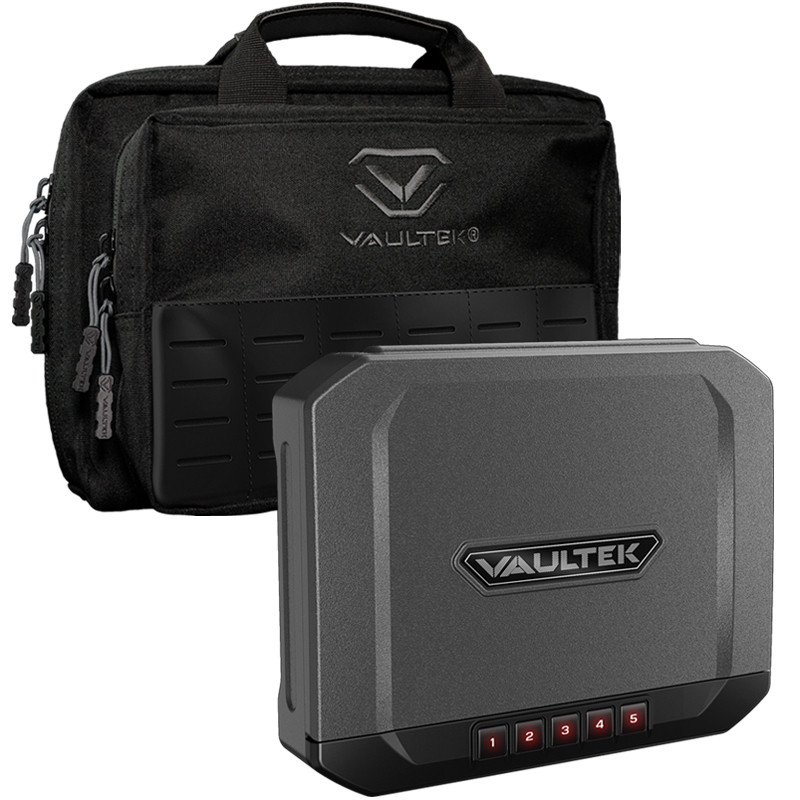  
VR10 Range Bag Combo
Slim design is ideal for concealed carry firearms and easily portable for car storage, or backpacks and luggage. A durable finish prevents corrosion and ensures long lasting protection of your belongings for years to come.
Signature Vaultek™ anti-theft features include anti-pry bars and dual anti-impact latches for prevention against break ins. Standard features available across the entire Vaultek™ line up.
Quick access to your valuables, documents, and firearm(s) from the automatic opening door. Responsive LED lighting in low light situations so you can locate your safe with the backlit keypad and easily view your safe contents.
Smart Safe Technology provides a highly interactive experience from your smartphone with the Bluetooth® app. You can view battery levels, history log, check for tampering, and remotely unlock the safe when in range.
Rechargeable lithium-ion battery provides on the go power for up to 4 months, and charges in only 2.5 hours with the included micro-USB cable through any standard USB port or USB power adapter.
Vaultek 10 Series Range Bag
Compatible with all Vaultek 10 Series safes.
Divided main compartment for twin pistol storage.
Front pocket storage for up to 5 spare magazines
Features water resistant construction with inverted zippers
Exterior canvas shell has a half-molle compatible front section.
**Range bag will ship pre-packed with VR10

Included Accessories:
(2) spare manual keys, micro-USB charging cable, rechargeable lithium-ion battery, mounting hardware, and steel security cable.

Weight: 5.2 lbs
External Dimensions: 10.55" wide X 8.46" deep X 2" tall
Internal Dimensions: 9.8" wide X 5.25" deep X 1.5" tall
California DOJ Certified: YES